Click on the thumbnails below to download the keyboard files you want. If you create a keyboard that you think might be useful for others, please contact us and we will post it here.

Unless otherwise specified, all layouts are designed for a desktop resolution of 800x600.
Standard keyboards

US keyboard
(Included in the installation package)

UK Keyboard

US keyboard
Desktop resolution 640x480 or more

US Dvorak layout
German keyboard
Created by Gerhard Gutschmidt

Russian (Cyrillic) keyboard

Norwegian keyboard
Created by Bjørn André Lie
Swiss German keyboard

Italian keyboard

Dutch keyboard Calculator (numpad) keyboard
French keyboard

Spanish keyboard

Czeck keyboard
Created by Vaclav Panenka

Calculator (numpad) keyboard
Special designs

"Clean and beautiful" (UK layout)
Created by Steve Edwards
Desktop resolution 1024x768 or more
Also available for
800x600
resolution

"i-800" (UK layout)

"Greenboard" (UK layout)

"Blueboard" (UK layout)

"OrangeGray" (UK layout)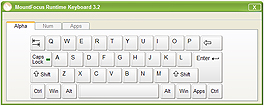 "Tabs"

"Blue stone" (UK layout)

"Nautical" (UK layout)

"Spring" (UK layout)

"Digital Education"(US layout)

"Beyond Sight" (US layout)