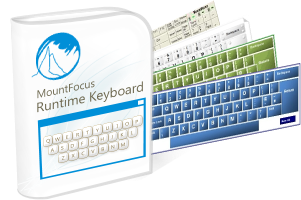 Wouldn't it be nice to have a computer keyboard that you could customize to your liking? You could make the keys any size or color. They could have pictures on them. They could do anything you choose, like type a certain character, even a whole word or series of commands. Virtual keyboards can have several pages, which each have a unique layout and function.
New ready-made keyboard designs available
here
.
Version 3.2 now available with full Unicode support.
Click here!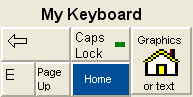 Think how much time that you could save by having the keys that you need right where you need them. You choose the layout, you choose the colors, you choose the size, you name it, you decide! Try it for FREE!

Copying keys makes creating keyboards even faster! The designer has a key pool of commonly used keys, which you can add to, and copy frequently used keys to make custom onscreen keyboards very quickly. Create your own keypools if you want!
Your custom keyboard can be controlled with mouse clicks or if you have a touch-screen, just by pressing the keys on the screen.
This keyboard is so flexible, it has hundreds of uses. Whether you are a computer programmer or can't use a conventional keyboard, you can benefit from your powerful virtual onscreen keyboard.
Now you can design your own onscreen keyboard, or use a pre-made keyboard that will save you time, money (time is money after all, right?) and aggravation.
You can try it out FREE for 30 days and see for yourself how easy it is to design your own keyboard.
Click here now
to download the trial version and take the tutorial that will take you step by step through making your own great keyboard!

Are you a software developer?

In the market for a touch screen?

Do you have difficulty using a conventional keyboard?
Then this new keyboard is for YOU.
The MountFocus Keyboard Designer v. 3.2 is the ultimate tool for creating virtual onscreen keyboards. Any computer using a Windows system, touch-screen or conventional, can use any MountFocus Keyboard. That makes it ideal for situations where a physical keyboard is not available, not desired, or just not feasible.

Point of Sale applications, Infokiosks, remote customer terminals, ATM's, your own personal computer: any time a conventional keyboard is not the best choice, are perfect situations for the MountFocus Keyboard Designer. The list is endless!
Whether you want to create your own virtual onscreen keyboards, or just use a pre-made keyboard, you can find the right solution for you.
Just need a standard keyboard on-screen? No problem!
Download
the keyboard of your choice and the Runtime Keyboard Program, install the 30 day trial version, and you're done! No need to design a keyboard from scratch, just download, install and you're up and running.
Still not convinced? How about FREE technical support by email?
Buy
the MountFocus Keyboard Designer, the Runtime version, or as many licenses as you need from our secure server, 24 hours a day. You can also order by fax or phone if you prefer.
The MountFocus Keyboard IS the right choice for your situation.
Click here
to see prices, put the power of a virtual keyboard in your hands, and
order securely online.
Still not convinced?
Onscreen virtual keyboard benefits for Developers
Onscreen virtual keyboard benefits for Touch Screen Users
Onscreen virtual keyboard benefits for Disabled Users